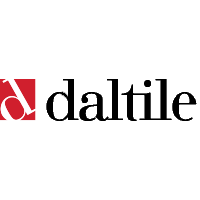 Daltile @ K&S Wholesale Tile
Daltile is a top name brand of the tile & flooring industry. Do your research and find out who carries Daltile!
Imagine What's Possible
Daltile has been awarded the prestigious Floor Covering Weekly Dealers' Choice Award over a dozen times for various floor coverings in a multitude of categories. In other words: Daltile rocks socks! Have you seen the Daltile Florentine Glazed Porcelain™ with Reveal Imaging™ yet? Daltile launches new products & product line frequently so check out what Daltile has in stock and put together a beautiful special order.
Daltile Isn't Just Pretty, It's Tough as Nails, Too
Daltile provides residential & commercial flooring products. Its authentic porcelain tiles are PTCA-certified with trustworthy manufacturing processes. Daltile is recycle-friendly too. Over 97% of manufactured products have pre-consumer recycled materials & select floor tiles 15+% post-consumer recycled materials. Beauty, elegance, stylish, unique & trustworthy. Daltile brings to life what you envision with its incredible selection of tile & stone for projects big or small. It's a market leader of a higher standard in flooring surpassing expectations of product quality in the industry. "Fashionably versatile", Daltile products are LEGIT high quality & very durable. This ain't the cheap stuff.
ProAdvanced™ Protection Program, For the Win
Ask your Wholesale Tile Store about the Daltile ProAdvanced™ Protection Program. ProAdvanced™ helps extend the lifetime of stone tile even further or until you're ready for a fresh tile job. Daltile believes in quality that goes deeper than the tile surface (See what we did there?). Daltile quality controls during manufacturing ensure wall & floor tile that proves a smoother install job that can last a lifetime, backed by a multi-year and lifetime warranties. Did we mention Daltile is kind of cocky? They back it up though. Daltile makes the bold claim it has "the most" comprehensive tile & stone installation warranty in the United States & internationally. The brand offers a multifaceted selection & provide you with resources, inspiration & name recognition. Daltile says its "the best". It's hard to disagree.
Take a Closer Look at the Daltile Product Line