Directions
K&S Wholesale Tile
Tile Showroom & Tile Warehouse|Tile Outlet|Tile Store|Open to the Public|Travertine
10877 US Highway 19 N
Clearwater, Florida 33764
On the borders of Pinellas Park & Clearwater in Pinellas County, Florida
---
Mobile users: Tap HERE for navigation to our tile showroom
---
---
Detailed Directions to get to the HUGE K&S Wholesale Tile Showroom & Tile Warehouse:
---
From Tampa or From Sarasota on I-275 (Interstate 275):
Take Exit 28 WESTBOUND onto Gandy Blvd. / Florida State Route 694
Turn RIGHT, heading NORTHBOUND onto US Highway 19 North
Continue NORTHBOUND on US Highway 19 North past Wal-mart, Bill Jackson & 49th Street
From the far right lane, take the BRYAN DAIRY ROAD exit off US Highway 19 North
Keep looking to your RIGHT after the Bryan Dairy Road exit for about a 1/2 mile
Pull into the parking lot of the BIG BRIGHT YELLOW BUILDING & park in the front
There are 2 double doorways to enter the building from the front, 1 on the left & 1 on the right
Prepare to be AMAZED at the BEAUTIFUL Tile floor samples the moment you walk in
---
Down US Hwy 19 from Palm Harbor, Oldsmar, Dunedin, Safety Harbor, Rocky Pointe:
Take US Hwy 19 SOUTH from Courtney Campbell Causeway/Gulf to Bay Blvd intersection
Take the County Road 611 S/Bayside Bridge exit on the left toward Saint Petersburg
Turn RIGHT past Lake Blvd traffic light & Quaker Steak + Lube on US 19 NORTHBOUND
KEEP RIGHT, DO NOT get onto the US Hwy 19 North ramp, STAY RIGHT on Frontage Road
About  3/4 mile on the right, we are the BIG BRIGHT YELLOW BUILDING
Park in the front parking lot & hold on to your socks. They are about to get ROCKED off!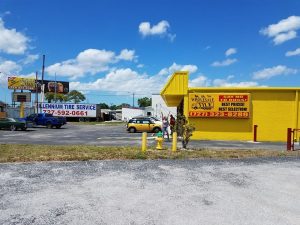 Kitchen Backsplash Store near St Petersburg|Bathroom Tile Store in Pinellas Park
Wood Look Tile|Stone Look Tile|Subway Tile|Best Deal on Tile|Best Tile Selection
Video footage of how to drive to K&S Wholesale Tile Showroom from US Hwy 19
Comments
comments